Education
In this section you can access educational materials about alternative investments and managed futures, articles about Steben & Company, as well as a glossary of commonly used terms in the alternative investment space.
---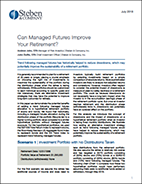 White Paper | Can Managed Futures Improve Your Retirement?
By Andrew John, CFA, Manager of Risk Analytics and John Dolfin, CFA, Chief Investment Officer | 07/09/18
It is generally recommended to plan for a retirement of 30 years or longer, placing a crucial emphasis on choosing the right mix of investments to maximize the sustainability of the portfolio.
For this analysis we introduce the concept of drawdowns and the impact of drawdowns on a hypothetical retirement portfolio when an investor is taking fixed monthly withdrawals. We found that historically, including a managed futures allocation during the distribution phase of the portfolio lifecycle would have added meaningful value to a retired investor by helping limit the depth of drawdowns during periods of market stress.
---