Managed Futures: An Introduction
Explore. Discover. Examine.
This guide explains various managed futures investment strategies and why incorporating these non-correlated strategies into a traditional portfolio may help improve risk-adjusted returns, provide the benefits of diversification with the potential to preserve capital during market stress periods. It also looks at ways investors can get access to managed futures strategies and how these strategies may fit into a diversified portfolio.

Learn about managed futures and why adding managed futures to a balanced portfolio may decrease portfolio risk while enhancing overall performance.

Explore Managed Futures Investment Strategies

Discover the Potential Benefits of Managed Futures

Examine Ways to Access Managed Futures Funds
---
What are Alternative Investments?
Alternative investments can refer to asset classes or strategies. Generally speaking, they are investments outside of long-only positions in traditional asset classes such as stocks, bonds and cash. Many alternatives have a low correlation to traditional assets and may provide investors with the benefits of diversification.
What are Managed Futures?
Managed futures are a category of alternative investments. Richard Donchian, who is considered to be the creator of the managed futures industry and is credited with developing a systematic approach to futures money management, started the first public managed futures fund in 1949. Since then, managed futures have developed into an established alternative asset class.
Managed futures are pooled investment funds that use professional money managers called "commodity trading advisors" or "CTAs" to trade in the futures markets. Futures contracts are liquid, are priced on a daily basis, and represent more than 200 global markets. Trading advisors buy and sell futures and forward contracts in an attempt to profit regardless of market direction.
Historically, managed futures have generated long term absolute returns that behave independently (in a non-correlated fashion) from those of stocks, bonds and other investment classes. Non-correlated strategies can bring added diversification benefits to an investment portfolio, possibly helping it better weather market downturns. Let's take a closer look…
Broad Diversification Opportunities
Futures are highly flexible and liquid financial instruments traded on regulated financial and commodity markets around the world. By broadly diversifying across global markets, managed futures can profit from price changes in equity, bond, currency and diverse commodity markets.
Trading advisors can take either long or short positions in futures markets including interest rates, equity indices, currencies, agriculturals, energies and metals. These markets are impacted, positively or negatively, by factors including geopolitical events, the economic cycle and investor sentiment. By accessing a diverse range of markets, trading advisors can potentially take advantage of worldwide price trends.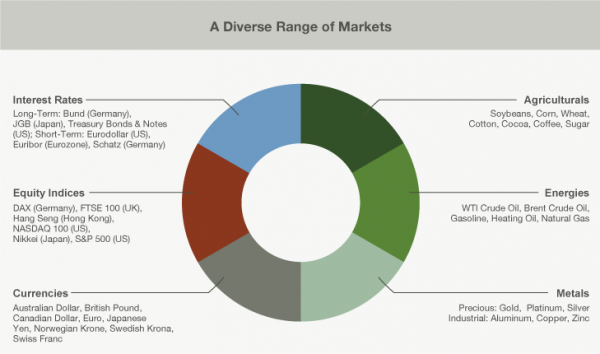 The above chart is for illustrative purposes only.
Potential to Lower Overall Portfolio Risk
Adding managed futures to a balanced portfolio may decrease portfolio volatility. Risk reduction is possible because managed futures trade across a wide range of global markets with long or short positions, leading to returns that have no meaningful long-term correlation to traditional asset classes (such as equities and bonds). Furthermore, managed futures tend to have historically performed well during difficult economic or market conditions for equities, providing downside protection in many portfolios.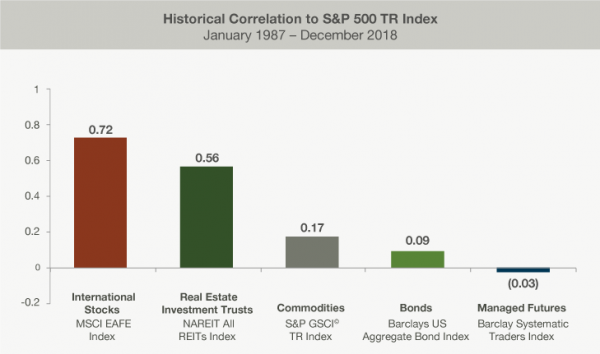 PAST PERFORMANCE IS NOT NECESSARILY INDICATIVE OF FUTURE RESULTS. HISTORICALLY LOW CORRELATION LEVELS MAY NOT CONTINUE IN THE FUTURE. Index definitions can be found in the Glossary. It is not possible to invest directly into an index.
Opportunity to Enhance Overall Portfolio Risk-Adjusted Returns
While managed futures can decrease portfolio risk, they can also enhance overall risk-adjusted performance. The chart below illustrates that adding managed futures to a traditional portfolio improves overall investment quality.
Modern Portfolio Theory states that adding assets to a diversified portfolio that have correlations of less than one with each other can decrease portfolio risk. This diversification can increase the Sharpe ratio for a portfolio.
The Sharpe ratio is a measure for calculating risk-adjusted return, which is the average return earned in excess of the risk-free rate per unit of volatility or total risk. Generally, the greater the value of the Sharpe ratio, the more attractive the risk-adjusted return.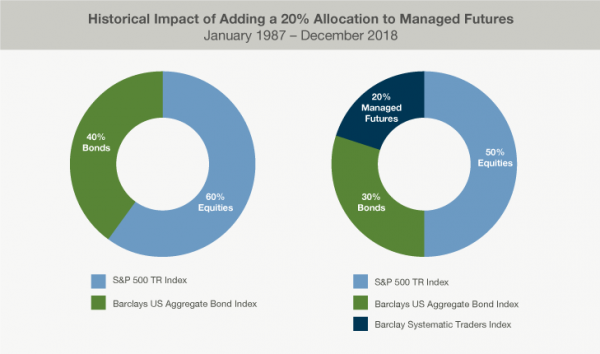 Since 1987
Annualized
Return
Max
Drawdown
Standard
Deviation
Sharpe
60/40 Portfolio
8.71%
-32.54%
9.14%
0.60%
50/30/20 Portfolio
8.61%
-25.14%
7.98%
0.66%
PAST PERFORMANCE IS NOT NECESSARILY INDICATIVE OF FUTURE RESULTS. HISTORICALLY LOW CORRELATION LEVELS MAY NOT CONTINUE IN THE FUTURE. Calculated using month-end data. Rebalanced monthly. Source: Bloomberg. See Glossary for index definitions.
Potential for Diversification in Tough Times
One of the most compelling reasons managed futures have garnered so much interest is their potential non-correlation benefits, particularly during challenging periods for equities.
The chart below shows the average performance for various asset classes during negative 12-month periods for the S&P 500 Total Return Index from January 1987 through December 2018.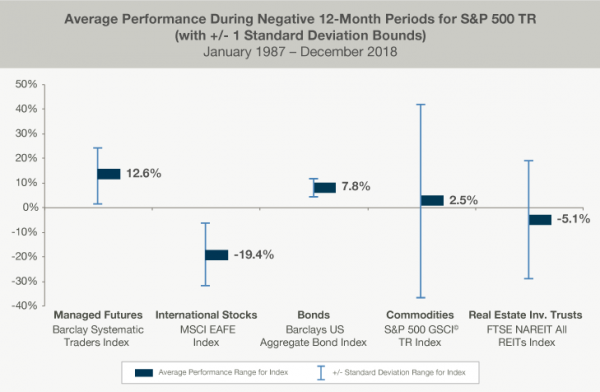 PAST PERFORMANCE IS NOT NECESSARILY INDICATIVE OF FUTURE RESULTS. HISTORICALLY LOW CORRELATION LEVELS MAY NOT CONTINUE IN THE FUTURE. Different time periods could produce different results. Returns are cumulative and are calculated using month-end data. Source: Bloomberg. See Glossary for index definitions.
Opportunities in a Variety of Economic Environments
Managed futures trading advisors can generate profit (or loss) in any market cycle due to their ability to go long (buy) futures positions in anticipation of rising markets or go short (sell) futures positions in anticipation of falling markets. Managed futures have performed well relative to traditional asset classes during challenging market environments due to non-correlation and absolute return potential, regardless of market direction.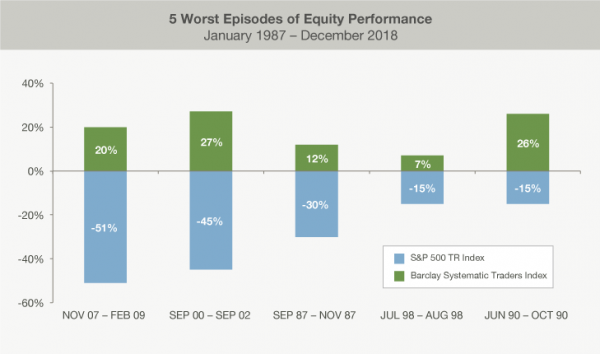 Source: Bloomberg
PAST PERFORMANCE IS NOT NECESSARILY INDICATIVE OF FUTURE RESULTS. DIVERSIFICATION DOES NOT ASSURE A PROFIT OR GUARANTEE A LOSS. Different time periods could produce different results. Calculated using month-end data. See Glossary for detailed index information. It is not possible to invest directly in an index.
---
Trading Advisor Selection is Paramount
Adding managed futures to a balanced portfolio may decrease portfolio volatility while providing the potential for attractive returns, which is entirely dependent on trading advisor skill. Therefore, the most important factor when investing in managed futures is trading advisor selection.
Over the last three decades, assets in managed futures have grown tremendously. According to BarclayHedge, there were more than 540 CTA programs in the managed futures industry with over $350 billion in assets under management at year-end 2018.
With so many managed futures trading advisors implementing unique investment systems and strategies, evaluating and categorizing them is not easy. There is also a large dispersion of returns across trading advisors. The implications of picking the wrong trading advisor may have a detrimental long-term affect on an investment portfolio
Detailed trading advisor research and selection is commonly called "due diligence" and typically encompasses the following:
Reviewing the Trading Advisor's Organizational Structure and Personnel
Assessing the Investment Process and Portfolio Construction
Analyzing Historical Performance and Risk/Return Metrics
While many professional and institutional investors have the expertise and experience to conduct this level of in-depth research, most individual investors do not. Therefore, investors may seek out professional assistance when deciding which trading advisor or type of managed futures strategy may be appropriate.
---
Accessing Managed Futures Strategies
There are a number of ways investors can gain access to managed futures:
Managed Futures vs. Private Funds
Mutual funds can provide non-accredited investors access to the diversification benefits of managed futures with the convenience of lower minimum investments, daily liquidity and 1099 tax reporting. However, certain constraints and restrictions on performance fee payments may create a negative selection bias in trading advisor quality. The end result may be that the mutual fund does not realize the performance potential of the same strategies in a traditional private fund.
Private funds are limited to investors that meet certain standards and often have high minimum investment requirements of $1 million or more. As a result, a direct investment in a private fund is usually only made by institutional and qualified investors. Because of the high minimum investment requirements, it may be difficult for investors to diversify across multiple trading advisors and strategies.
Single vs. Multi-Advisor Funds
Some managed futures funds are limited to a single trading advisor, while multi-advisor funds invest through multiple trading advisors. Multi-advisor funds offer the potential diversification benefits of investing in a variety of managed futures strategies with a variety of trading advisors. They may also have lower investment minimums than private, single advisor funds, making them more accessible. In addition, multi-advisor funds often have professional sponsors who conduct extensive research and due diligence on trading advisors. Both single and multi-advisor funds may be structured as private funds or mutual funds.
Multi-Advisor Funds: A Closer Look

A managed futures multi-advisor fund is an investment vehicle that pools investor assets together and invests across multiple trading advisors. These types of funds may be structured as mutual funds or as private funds. Multi-advisor funds provide investors a potentially lower minimum investment to access a professionally selected and managed portfolio of trading advisors. The sponsor of the multi-advisor fund is responsible for due diligence, trading advisor selection, portfolio construction, risk management, ongoing monitoring and rebalancing.
A multi-advisor fund will still seek to deliver absolute returns and diversification from stocks and bonds with reduced volatility. In some cases, the pooling of investor money may allow a multi-advisor fund to access trading advisors unavailable to most individual investors due to high investment minimums or high investor qualification standards.
Some multi-advisor funds are still subject to the performance fees of the underlying trading advisors in which they are invested.
Managed Futures Strategies
While each trading advisor employs its unique investment strategy, the majority fall into one of two categories: the major group is known as trend following, while the other is comprised of non-trend strategies.
Trend Following Strategies
Many trading advisors utilize the concept of trend following, where they seek to identify sustained price trends, regardless of the direction the market is moving. In general, trend followers are more likely to trade profitably when market prices move in a continuous direction, up or down, for sustained periods of time, and they are more likely to incur losses when market prices are erratic and frequently change direction over shorter periods of time. Different trading advisors may seek to exploit short term, medium term or long term price trends.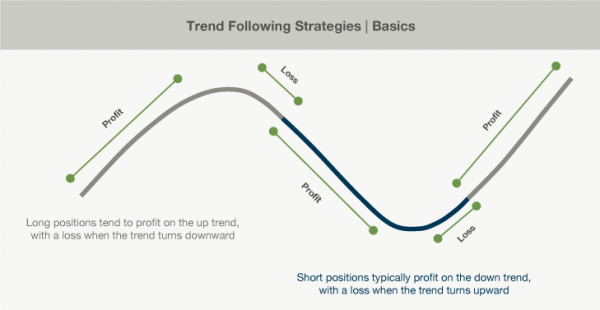 Non-Trend
Strategies
Systematic vs.
Discretionary Trading

Some trading advisors utilize nontrend strategies that may result in a profit (or loss) in the absence of trends. These strategies include (but are not limited to):

Carry
Mean Reversion
Pattern Recognition

Systematic traders use proprietary computer models to trade in a diverse range of global futures markets. Trades are determined by a rules-based system.

Discretionary trading is decision-based, where the trader determines the trades.
 
Where Do Managed Futures Fit in Your Portfolio?
Adding managed futures to a balanced portfolio may decrease portfolio volatility while providing the potential for absolute returns. Managed futures are not for everyone, but they can be a strategic addition to the portfolios of certain qualified investors through private funds as well as retail investors through mutual funds.
Accessing information on managed futures and trading advisor programs can be difficult. However, it is important to determine if a trading advisor's strategy fits your investment objective and risk tolerance. By conducting the appropriate amount of research, or by investing with a sponsor that actively manages a multi-advisor fund (the sponsor performs due diligence, trading advisor allocation and portfolio construction, and ongoing monitoring), managed futures can provide a viable alternative investment for investors looking to diversify their portfolios and potentially enhance risk-adjusted returns.
If you think managed futures strategies might make sense for your portfolio, talk with your financial advisor about what role these strategies might play and where they might fit in your asset allocation strategy.
Risks of Managed Futures Investing
Managed futures involve special risks and considerations. Each fund's investment program is speculative and involves risks inherent in an investment in securities, as well as specific risks associated with the use of leverage, short sales, options, futures, derivatives, junk bonds, emerging markets, illiquid securities and limited regulatory oversight.
Alternative investment products, including managed futures involve a high degree of risk, often engage in leveraging and other speculative investment practices that may increase the risk of investment loss, can be highly illiquid, are not always required to provide periodic pricing or valuation information to investors, may involve complex tax structures and delays in distributing important tax information, may not be not subject to the same regulatory requirements as mutual funds, often charge high fees which may offset any trading profits, and in many cases the underlying investments are not transparent and are known only to the investment manager. Alternative investment performance can be volatile. An investor could lose all or a substantial amount of his or her investment.
Often, alternative investment fund managers have total trading authority over their funds or accounts; the use of a single advisor applying generally similar trading programs could mean lack of diversification and, consequently, higher risk. There is often no secondary market for an investor's interest in alternative investments, and none is expected to develop. There may be restrictions on transferring interests in any alternative investment. Alternative investment products often execute a substantial portion of their trades on non-US exchanges. Investing in foreign markets may entail risks that differ from those associated with investments in US markets. Additionally, alternative investments often entail commodity trading, which involves substantial risk of loss.
---
The views in this material are intended to assist the reader in understanding various managed futures investment strategies and do not constitute investment or tax advice (please consult your tax professional). Managed futures have different characteristics from traditional equity investments and traditional mutual funds. Our review is intended to provide a general overview and some specific attributes associated with investing in a managed futures fund structure. The views in this material were those of Steben & Company as of the date of publication. Please refer to the Risks of Managed Futures Investing (above) as well as the Glossary of Terms for important disclosures.